The Directorate of Global Health Partnerships at Health Education England (HEE) builds international partnerships to strengthen health systems and services in England and across the world to deliver improved care for patients. We work with partners to attract, educate, and train an international health workforce to benefit populations around the world.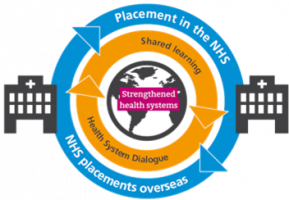 The HEE Global Health Partnerships Directorate is looking for NHS providers and local systems to partner with on new global opportunities. We are requesting expressions of interest to join a Framework of pre-identified NHS partners to be notified of new opportunities.
By joining the Framework, NHS systems and providers gain access to new opportunities for international partnerships. Key benefits include:
International education placements for NHS staff
Support for managed recruitment of international staff
Knowledge exchange and capability-building partnerships with foreign governments and health systems.
There are many benefits to the NHS of partnering with HEE Global Health Partnerships, including:
New two-way sustainable pipelines for international recruitment and global learning
Cost-effective international recruitment to fill your staffing gaps and reduce Bank and Agency spend
New global opportunities for your staff to develop new skills in an international setting.
Each individual partnership is different, but all partnerships are underpinned by co-development and transparency, ensuring that all countries and partners benefit.
We appreciate the collaboration between HEE and the Consortium of Thai Medical Schools to establish this bidirectional exchange between UK and Thailand. The HEE team has been very dedicated and attentive in working deliberately to make this project possible. We are looking forward to finalizing the process and expect the first exchange batch to start by early 2022.

Assoc. Prof Naricha Chirakalwasan, Assistant Dean for International Affairs, Chulalonkkorn Unversity