Dr Suhaib Asif Jiman – Histopathology Trainee
I love to challenge myself and be outside my comfort zone. I knew the beginning would be tough, but I trusted University Hospitals Birmingham and they guided me in lots of ways. I will always be thankful to them.
Upon completing the training and returning to my country, I believe that I will have the best tools to serve the patients and improve the healthcare system of my community.
What makes IPGMTS work for me:
The integration of teaching, research opportunities, and exposure to various and numerous cases
Supervisors who gave me a personalised plan
The opportunity to familiarise myself with the NHS health care system.
Dr Lama Hussamuddin Sallout – Internal Medicine / Nephrology Trainee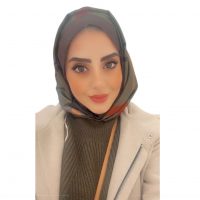 I was one of the luckiest qualified trainees chosen to train in England. Arriving at Birmingham seemed like a challenge at first, but with the help of the University Hospitals Birmingham (UHB) International Office and clinical supervisors at UHB I was able to better understand how the program is structured.
A few months later, working as a junior trainee in England, I can confidently say I am on the right track. I have learned and improved in many aspects. I can see by the time I am done with my training; I will be polished to the expectations I have in mind or even better. I am certain that going back to my home country as a CCT qualified physician will create a positive impact.
What makes IPGMTS work for me:
Continuous educational activities held despite all the COVID restrictions
The well-organised training scheme tailored to every registrar's interest
Working closely with qualified, smart, well trained, knowledgeable, and professional registrars.
The well-respected relationship between registrars and their seniors
The friendly yet purposeful relationship with Juniors
Being made to feel welcome, heard, able express and share my thoughts among the team